Opportunities and challenges for food industries and manufacturers in developing functional food products
In the early 19th century, a separate research and development domain called nutrient science was established. Later, scientists proposed a new idea which combines food knowledge with human health and physiology. This new idea was simply known as "the diet system". Then, scientists were able to distinguish what type of nutrients enhances human growth and human health. So, they developed frameworks such as RDA, RNI, diet guidelines, food chart etc which emphasises the daily amount of nutrients to be taken by humans.
Once the ancient Greek physician who is famously known as "The Father of Medicine" Hippocrates quoted that "Food be the medicine and medicine be the food". However, those quotes may not be completely applicable now because of the difference in situation, lifestyle, culture, and eatable foods. So, the food industries came up with a solution of developing functional food products to deliver healthy nutritious food products to consumers.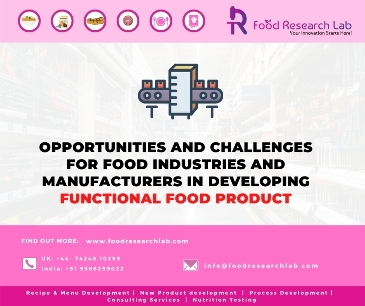 What is functional food?
The food product Development which are enriched with nutrition contents already in them or modified with other complementary nutrients which possess the advantages of physiologically effects, to provide health benefits and to prevent from chronic disease. The term functional food is also known as fortified food, tailored food etc.
"Natural or processed foods that contains known or unknown biologically-active
Compounds; which, in defined, effective non-toxic amounts, provide a clinically proven and
documented health benefit for the prevention, management, or treatment of chronic disease."
Why is functional food so important?
There is significant growth and rapid production of functional food products in recent times because of its benefits and advantages. These are some of the factors which illustrate the importance of functional food;
Enhance early development and growth.
Prevent from nutrient deficiency
Reduce the risk of obesity & chronic disease
Boosts the immune system.
Complete health condition is maintained and stabilized.
Development of functional food products
Food product development companies and food consulting services must meticulously follow the below cycle to introduce a new functional food product in the market. There are many new food product development companies and food innovation companies focusing on the development of functional food. Moreover, Food research lab is one of such food innovation companies concentrating on new beverage product development and new product development in food industry. The food consulting service providers, food consultants and research staffs play a vital role during the developmental phase.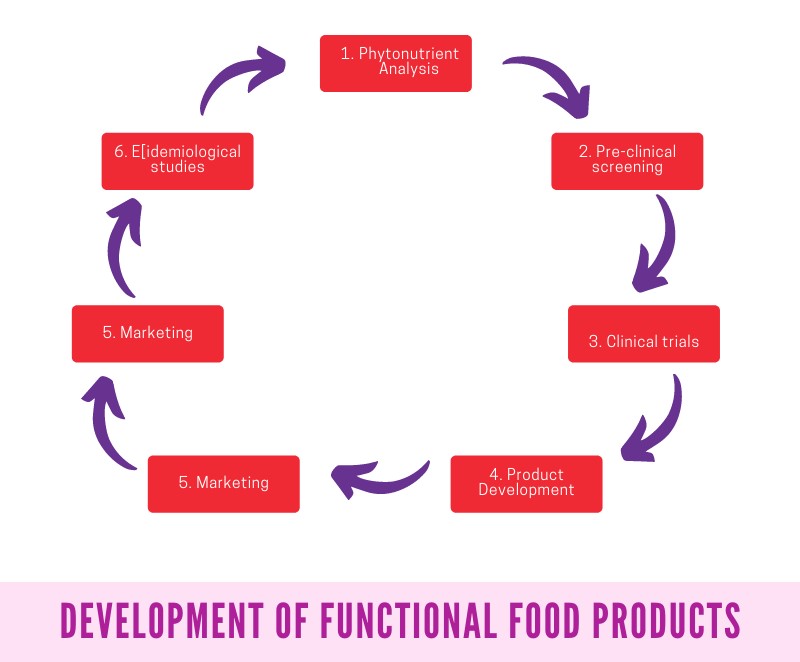 Challenges for the food industries in Developing Functional Food Products
Despite the surplus source of raw materials in developed and developing countries, there are lots of other challenges faced by a food industry. Some of the common challenges in the food industries are
Manpower: This is one of the important aspects which plays a vital role for successful operation and performance of the company. So, finding skilled labourers for the work is always a challenging tedious task yet this is a high prioritized task for any owner. Most of the companies in food industries are struggling to find good skilled labourers, unskilled labourers, researchers, consultants etc.
Regulatory system: Most of the countries lack a proper regulatory system where this affects the entire performance and development of the company. The company should establish a framework or a system for certification, sales and advertisement for their respective product. This is the key factor for building trust among the customers. Under this section, marketing plays a vital role between production and supply. So without a proper marketing and sales management system, the company cannot deliver their best.
Consumer's demand: The ultimate goal of any company is to satisfy the customer's demand. Similar, the demands of the customers in food industries is quite challenging because of its diverged class of consumers with various demands. So, the company should ensure that they deliver their products in the right time according to the consumer's requirements.
Research and development: In today's commercial world, people are running so fast and they're always demanding only for the best upgraded products in the market. So to maintain the standard and the customer's demands, the role of food development consultants, researchers and scientists in delivering advanced upgraded products becomes inevitable.
Investment: This is one of the mandatory factors to drive the company to greater heights. It is highly recommendable to seek advice from a business expert before investing in any business. A wise businessman always understands the consumer's demands and market before investing on a new product.
Opportunities for the food industries in Developing Functional Food Products
Food industries create multiple openings to various sectors and there are many people getting benefited out of these opportunities. Moreover, the countries like Japan, US, Europe etc are highly benefited out of the new food products and new beverages developed by these industries.
Marketing and sales: These food industries, new food products etc create new opportunities in the marketing and sale. When compared to conventional food products, these new functional food products are costlier with high profit margin. So, this opens a new door for economic opportunities across the globe. Moreover, in the past 10 years, this sector has grown exponentially with a 10 percent annual increase in the value and it is expected to grow rapidly in the upcoming years.
Innovation and R&D: The current mindset of the people is craving only for new best quality products. So, to satisfy the consumer's demands, the scientists and researchers in the food innovation company are expected to deliver new upgraded food products. Thus, these industries create a new window for R&D and innovation in the food industry.
Automation and IT sector: Nowadays, food manufacturers have started to develop smart food factories to increase productivity and save time. So, this provides multiple opportunities to the automation and mechatronic sectors (i.e.,) collaborative robots, 3d printers etc. furthermore, Even IT sector is highly benefited out of this industry where Artificial intelligence technology has started to replace the conventional system.

Conclusion
As quoted by the Greek physician Hippocrates "Food be the medicine and medicine be the food" these functional food products serve as a medicine by preventing us against the disease and providing multiple health benefits. Conclusively, this article summarizes the benefits, advantages and development of functional food. This article also illustrates the opportunities and challenges for the food industries and its future scope. So, I hope this article helps you grasp an idea about the functional food products and the food industries which have developed them.
References
Khan, R. S., Grigor, J., Winger, R., & Win, A. (2013). Functional food product development – Opportunities and challenges for food manufacturers. Trends in Food Science & Technology, 30(1), 27–37.
Danik M. Martirosyan and Jaishree Singh. A new definition of functional food by FFC: what makes a new definition unique? Functional Foods in Health and Disease 2015; 5(6):209-223
Jones, Peter & Jew, Stephanie. (2007). Functional food development: concept to reality. Trends in Food Science & Technology. 18. 387-390.
Williams, Melissa &Pehu, Eija&Ragasa, Catherine. (2006). Functional Foods : Opportunities and Challenges for Developing Countries. Agricultural and Rural Development Note. 19.
Food Industry Executive. (2020). Discover How the Food Industry Is Responding to the COVID-19 Outbreak.
Shandilya, U. K. (2017). Functional Foods and Their Benefits: An Overview. Journal of Nutritional Health & Food Engineering, 7(4).