What is the variety of nutrient testing methods available? Mention their importance
In Brief:
Are you a health-sensible person who checks the nutritional data on foodstuffs diligently whenever on a grocery shopping spree? Well, nowadays many people are very cautious about what we intake in our body.
To make it suitable to make healthier adoptions when it comes to food products, the concept of nutrition labelling testing emerged
Food research lab explains the complete essay about food nutrient testing and provides you with nutritional testing services.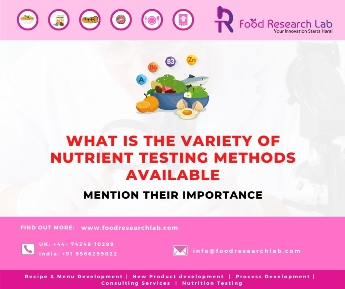 Introduction:
Nutrition testing is a requisite part of analytical chemistry. It determines the food's nutrient contents, including structure, chemical composition, quality control, processing, and contamination. Trade and food laws impose nutrition testing. Food Nutrition testing is not only for human food but also for pet feeds and dietary supplements
Reasons for food product analysis
Manufacturer declaration about the product is verified using nutrition testing mainly about the ingredients used
The test is through from raw materials, start and end of the manufacturing process and the final product
Food testing is through to ensure food manufacturers meet the standards and laws
To make a nutrition label which is must for every food product
Any nasty rumour about a product's nutrition can be empty using nutrition analysis
Nutrition label
Nutrition label consists of details that a particular quantity of a specific food product consists of how much quantity and nutrition label testing and other essential compounds and the safety proof of those compounds.
The variation in nutrition labels majorly
Dual column label
Single-ingredient sugar labels
Methods for nutrient analysis
There are various methods which are certified by the officials (FDA) for nutrient analysis
Laboratory analysis
Nutrient analysis software
Laser scanning confocal microscopy
Immunoassays
Mass spectrometry
Laboratory analysis
There are specific testing facilities available; the prepared food materials are given to these facilities to estimate the nutrition quantity and quality in the food nutritional analysis lab. Suppose the food is to be ready in a certain way before consuming it is necessary to estimate the after the nutritional value of food. It depends on the method of the process that is most common for ingredients to be cast-off in cooking. The laboratory studies need specific guidance and knowledge
Nutritional analysis testing software
Nutrition analysis software in food testing companies combines food portion size information, population dietary reference values and nutrient calculations. It is the most time consuming than the manual process, but it certainly depends on standard recipes of the particular product
Some of the nutrition analysis software is
Nutrium
My pt hub
Nutrasoft
Indigo
Nutracoster
Genesis r&d food labelling
Chieftec
Nutritionist pro
A la calc
Hawk scanner
Minimax
Calculate
Dieterich
Fd meal planner
Laser scanning confocal microscopy (LSCM)
LSCM illuminates the sample using highly intensified laser beams rather than visible light, analyzing samples at various focal planes, even using a small piece. Using the microscope details about different consecutive optical sections of the specimen can be obtained using the microscope details' adjustment. The significant applications of LSCM in food analysis are
Description of fats in bulk
Biopolymer mixtures
Emulsion system
Gel-like emulsion
The significant advantage of lscm is the 3d analysis of the product. It uses compound-specific fluorescent probes which make it possible to image the presence, state and spatial organization of the compounds
Immunoassay
Immunoassay techniques are more specific and sensitive, utilizing immunological reaction (antigen and antibody response) to detect naturally occurring constituents, pesticide residue, microbes or their by-products related to food analysis. The various immunoassay techniques include ELISA (enzyme-linked immunosorbent assay), ria (radioimmunoassay) etc. Utilizes both monoclonal and polyclonal antibodies
Advantages
Cost-efficient
Simple equipment
Less analysis time
Disadvantages
Maintaining reliability
Unstable sensitivity
Mass spectrometry
Mass spectrometry uses mass to charge ratio to analyze the samples, giving a detailed account of their structures. Gas chromatography (GC-ms) is majorly used in food analysis. Sterols, alcohol, fatty acid, and low mass carbohydrates are analyzed numerically, including pesticides, pollutants, toxins, and drugs. It is used for the quantification of polyphenols in fruits and vegetables
Advantages
It provides a sensitive response to the most analyte
It includes information about a specific class of compound
It includes information about the various structure of the compound
It has high resolution and separation capacity
Less time consuming comparatively than other methods
It determines molecular weight and fragmentation pattern of the compounds
Simple rapid and reproducible technique
Good accuracy and precision
Disadvantages
Low sensitivity
Affected by fluctuation in temperature and flow rate
Specific nutrient analysis in food nutrition testing services
Anti nutrient testing
Amino acid testing
Carbohydrate testing
Enzyme testing
Fatty acid testing
Fats and oil testing
Food allergen testing
Trace metal analysis
Preservative and antioxidant testing
Proximate
Vitamin testing
Importance for nutrition analysis
In the modern world, new functions than the standard supply of energy and nutrients are assigned to nutrition such as food components with biological activities. It is essential to know about distribution and amount of bioactive compounds in the food. Food concentration depends on plant variety, cultivation, geographical conditions, and processing methods. They also provide the basis for the recipe formation and new production methods

Conclusion
Food analysis mainly focuses on the nutritional value of the products, and additional compounds added, the presence of any toxic elements, the effect of food processing and quality. The nutritional analysis is a complex testing but the fundamental variable for food labelling, which is mandatory throughout society's benefits. Food research lab tells out the food nutrient analysis and offers food nutrition testing services.
References:
Mackison, D., Wrieden, W. L., & Anderson, A. S. (2010). Validity and reliability testing of a short questionnaire developed to assess consumers' use, understanding and perception of food labels. European journal of clinical nutrition, 64(2), 210-217.
Silk, K. J., Sherry, J., Winn, B., Keesecker, N., Horodynski, M. A., & Sayir, A. (2008). Increasing nutrition literacy: testing the effectiveness of print, web site, and game modalities. Journal of nutrition education and behaviour, 40(1), 3-10.