Top 10 food products that will drive consumer and define the food & Beverage industry Post-COVID-19
In-Brief:
You start with your initial product idea and consider all the beverage development company ins and outs.
Beverage product development company includes the product category that fits and also they will help to have an appropriate research
One of the sustainable parts of your research involves competition. Your research should include all markets local, national, and international even if you only plan to sell locally.
Introduction:
This COVID-19 pandemic has led consumers to prioritize wellbeing and made it as a vital concern. In the pandemic, people have become sensible about choosing the food product that decreases the health-related risks. In this post-COVID world, consumers look for products with metal and emotional health, Including more classic food and drinks that help them prevent emotional health concerns.
Most of us start a new meal routine in this post-COVID situation as plant-based vegetable trends reach a phenomenal global status. There was a substantial shift indicated in the covid situation towards healthy & organic products. This inclination will soon become a lifestyle for many consumers. Foodresearchlabs Spice mixtures and compounds will make your food more exciting, often with the simple recipe. Explore our delicious flavours with the selection of our food product development consultant.
Explore the most nutritious and your health-friendly non-dairy beverages. Non-dairy milk options are more economically viable, tasty and nutritious. Our new beverage product development comprises different types of nuts and seeds with the naturally available sweet incorporation. Our food research and development companies provide service to food industries by formulating a healthy and balanced diet. Our beverage flavour development formulation consists of proteins and vitamins, Calcium which is essential for healthy bones.
Food preservation is one of the supreme methods which plays as an inseparable part of human life. Various methods such as drying, storage in vinegar, acidic conditions, Canning, Freezing, and Sealing have been the classic old method to enhance the food applications' shelf life. However, the classic traditional food preservation method guarantees its safety, applying these methods in the food system. These classic systems have an equal amount of disadvantage: the food system promotes the loss of temperature sensitivity compound, leading to denaturation of the proteins available in food. They may also lead to colour, the taste of the product and may form an undesired substance. Thus Foodresearchlab has an interest in using nonthermal processing methods for preservation of food products.
Our Functional food product development crew consists of the people with the science-based knowledge through various available technologies and modern procedures, to prevent deterioration and spoilage of food product by enhancing their shelf life.
Explore our free tips available about the different methods involved in shelf life.
Snack bars with functional ingredients:
Functional ingredients in the food are current trends that are still growing trend as consumers search for options outside of the supplements. Food with functional ingredients becomes more popular in the snack category, a ladder for growth. A growing population chooses a proactive approach to health and wellness, turning the food over medicine. The trend has given rise to a snack category with added benefits like a functional ingredient.
When it comes to quenching your thirst, water will help you with that, and if you crave something more, these healthy drinks will boost nutrition content in the body. If you are looking for the drink beneficial to your health, look at beverage product development. Various types of health drink that quench your thirst and healthy to have a balanced diet.
Sports drinks and energy drinks
Cognitive health beverages
Whey Protein drinks
Ready to eat breakfast cereals:
Breakfast cereals are made from refined grains, by a process called extrusion. Our expert crew with better scientific knowledge provides a better New product development process to make the cereals incorporated with nuts & muesli to give a punch flavour to your product.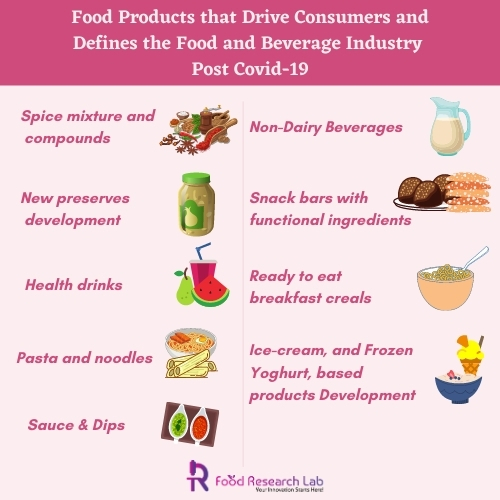 Virtual home to get a simple yet flavourful pasta and noodles. Pasta and noodles are the most favourite food among the adult. Hence Foodresearchlab concluded by incorporating the pasta and noodle recipe with the right nutrients needed for your body and maintaining a balanced diet.
Ice-cream, and Frozen Yoghurt, based products Development:
The two magic ingredients for frozen yoghurt is out now! Dairy and also natural sweeteners. The frozen yoghurt food product development has some of the primary ingredient, which contains live microorganism. Food development consultants worked together and developed a lower fat frozen yoghurt by using the milk as the main ingredient by leaving the cream.
Try our all-new creamy texture and sweet, tangy taste frozen yoghurt.
Yummy bite appetizers and a nutritious dipping sauce go well as well as protect your health. Our food development company developed a dipping sauce recipe that will complement almost every appetizer's serving with the dip.
Conclusion:
food development consultants prepare a marketing plan that covers a lot of areas. Our process not only involved in getting the product outcome you expected, but We also provide a lot of thought about the big picture

References:
Chowdhury, M. T., Sarkar, A., Paul, S. K., & Moktadir, M. A. (2020). A case study on strategies to deal with the impacts of COVID-19 pandemic in the food and beverage industry. Operations Management Research, 1-13.
Rowan, N. J., & Galanakis, C. M. (2020). Unlocking challenges and opportunities presented by COVID-19 pandemic for cross-cutting disruption in agri-food and green deal innovations: Quo Vadis?. Science of the Total Environment, 141362.
Telukdarie, A., Munsamy, M., & Mohlala, P. (2020). Analysis of the Impact of COVID-19 on the Food and Beverages Manufacturing Sector. Sustainability, 12(22), 9331.
Related Topics: