Restaurant menu development ideas in Post COVID world.
In-Brief:
There is no refuse for the impact of coronavirus on food industries – and for many restaurants, preparing to reopen and get your business back on track might need a few changes.
The changes may be safety changes where it is necessary to give safer food products to the audience.
Changes also include your menu: It does not matter whether you are an established venue you should have a strategy to make sure your menu says and does everything you need it to do to increase your sales.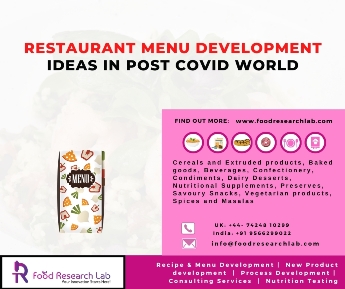 Introduction:
In restaurant menu development companies it really matters whether you are developing your own first restaurant or planning to re-invent your current menu – you need to have a strategy in place with food and beverages. If you have done a Restaurant menu development plan, you are already on the right way to attract the audience. Your restaurant menu is there to develop your unique brand personality. To create memory among the audience, your food and beverage menu, should be designed based on the clear understanding of the target audience. Restaurant menu development consultants are there to undertake an advanced hyper-local analysis and aim to understand your local audience's economic factors.
Your unique menu concept:
Ask yourself one question at this starting stage of the process. Know what your restaurant to be known for to create a new innovative recipe—the best one of our menus. For menu recipe development, it is mandatory to build a flavour profile with supporting elements such as colour and texture that will deliver an appetizing food to the customer.
The ultimate goal is to develop restaurant menu & recipe development to provide a simple and memorable food product to your customer to minimize the confusion and anxiety in preparation pick a flavourful product that suites your dish that consist of natural flavouring ingredient that attracts your customer and make them stay within.
Develop a list of core ingredients:
The game-changing step is here. The essential step that decides the fate of the recipe is your core ingredient. The core ingredient choosing is the tedious step that needs more care and knowledge about the food. Developing a menu or Recreating specific dish and drinks can take many trials and errors in the process recipe development services may help you with the development and trial and error process. So, it is mandatory to understand the concept ad target market while working with flavours that will make the customers feel good. Place a list of core ingredients prior that has an exquisite flavour with the help of raw ingredient as much as possible to remove the synthetic flavour content in the food product.
Using this stage choose unique and authentic flavours to devour your dish and create an excellent menu to impress your customer. For more standardized recipe development contact our food consultant at foodresearchlab.
Investigate your supply chain:
After deciding the concept, flavour to impress the target audience increases the demand for your food by reducing the risk by eliminating as many third parties as possible. While planning your restaurant menu limit your supply chain as much as possible. Build a list of two or three local butchers, suppliers, and another ingredient required for your concept.
Restaurant consulting services reduce the risk of buying the old goods from the supply chain buyers, by reducing the chance to have two or three parties in between the process. to build a new innovative product that will attract the audience for sure—at the same time, planning to give an authentic product list out the number of ingredients needed including the data of the company, for example how they store, deliver their products to the restaurants in order to check the product's value and also to get an innovative outcome.
Cost out your menu items:
The menu item should be priced according to the target audience and the local economy. After choosing a best concept and strategy to develop a product, merely input the available data into a spreadsheet that allows you to begin analyzing your menu concept, including the top ingredient to the smaller portion of the ingredient.
The pricing is based on the noted ingredients and each supplier cost, also based on the inclusion of the profit for the restaurant. That's why having a business plan in place will assist in understanding appropriate key performance indicators required to be a successful restaurant.
Run a test kitchen:
The most existing aspect of predicting the future of the product is to develop by testing the flavour. By running the test in your restaurant kitchen, make sure your menu ingredients exceed your expectations. Also, involve other peoples inside the test kitchen to give you suggestions based on modifying your product if that makes your menu better. Please take a picture of the food and post it on social media to see your audience's visual standpoint and make decisions accordingly. The key to profit is to make your menu simple and memorable by keeping it small and focused with few ingredients.
Also, differentiate your concept with other competitors found locally and balance your price accordingly to get a successful outcome. Restaurant menu development services offer a unique service to serve your consumer by building an innovative product.

Conclusion:
It may seem obvious on paper, but in reality, it is mandatory to have your staffs and cooks thoroughly and systematically trained on any changes made to your restaurant recipe, includes menu items. Staffs are the integral part of the team, to Keep everyone in the loop of the business decisions and changes helps make them feel valued and motivated to bring an innovative food product.
Restaurant Consulting Services
Recipe & Menu Development Services
Restaurant Menu Development Consulting Services
Reference:
Lai, H. B. J., Abidin, M. R. Z., Hasni, M. Z., Ab Karim, M. S., & Ishak, F. A. C. (2020). Key adaptations of SME restaurants in Malaysia amidst the COVID-19 Pandemic. International Journal of Research in Business and Social Science (2147-4478), 9(6), 12-23.
Miner, T. (1996). Customer-Focused Menu Markeing. Cornell Hotel and Restaurant Administration Quarterly, 37(3), 36-41.
Glanz, K., Resnicow, K., Seymour, J., Hoy, K., Stewart, H., Lyons, M., & Goldberg, J. (2007). How major restaurant chains plan their menus: the role of profit, demand, and health. American journal of preventive medicine, 32(5), 383-388.