The Dynamics of Taste Perception and the Plight of Healthy Plant-based Snack Food Manufacturers.
In today's fast-paced world, consumers are living more on the go and snacking often. Moreover, people are also conscious of what they are eating and looking for healthier options rather than something that is just going to curb cravings. With numerous diets popping on the internet, people have started reading the ingredients and the following label claims now more than ever. The conventional idea of a snack as a quick bite between two meals has changed.
Due to this reliance, Food scientists are trying to innovate the snack category as a source of nutrition. Food manufacturers are creating healthy snacks that taste great while fulfilling nutritional requirements with exotic flavours, high protein edibles and plant-based options. Snack Food manufacturers should keep up with the ongoing food trend and must adapt to the dynamics of the consumers preferences. So, lets us learn a few key points which food manufacturers outsource their research and development function for formulation to embrace to create your favourite and the perfect snack.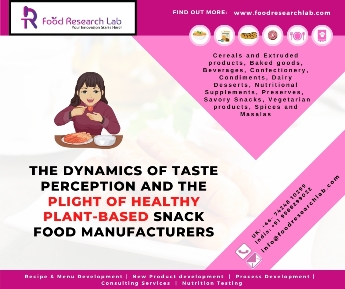 The industry which was once celebrated as offering occasional treats must now supply to the people who wants healthier choices throughout the day. Many consumers are not motivated to buy products that are closely aligned with well-being and avoid artificial ingredients, GMOs or pesticides. This has led to the rise of cleaner labels and increase in non-GMO and organic segment products.
In 2015, Kellogg, General Mills, Nestle, Hershey and Campbell all vowed to remove artificial ingredients from all or certain specific segments of their portfolios. Kellogg has struggled with this shift already, especially with K cereal.
Even basic foods such as loaves of bread, cereal and chocolate are expected to be made with healthier ingredients. For instance, a baker in Orlando, USA, has created bread with probiotics baked into it improve customers digestive health (1). With prebiotics loaded in yoghurt and cereal from the breakfast menu, bread was the next foods to add these healthy bacteria to yoghurt .
Not just your gut, consumers also prefer to choose food that offers benefits to their brain, improve memory and focus, a principle called neuro-nutrition (2,3). The healthy label also embraces the clean, vegan, gluten-free and allergen-free diets, which many people follow.
Added Proteins:
Paleo and keto food diets are two most recent and important diets which has initiated a new trend in the snack food industry.
Meat-based snacks (such as cracked pepper Jerky or Chicken Sriracha Bar) might come to your mind when you think of proteins. Meat is still by large a major player in the protein snacks category. We have seen increased sales of beef jerky or pork rinds or salted fried pork skin from manufactures such as Utz and Rudolph's.
We can see that the food formulation scientist and food manufacturers are going to great lengths to innovative flavours in the market, such as Cuban mojito, apple chardonnay, cilantro lime etc., which are appealing to existing and younger consumers.
Plant-based proteins (Protein Brownie) based new product formulation also equally contribute to this added protein section. Higher protein addition is a common driver for new plant-based formulations (4). This is done to satisfy hunger and provide an energy boost. For instance, Peanut bar has 7 g of protein which provides long-lasting energy and makes you feel full (5).
Bring TASTE forward:
If a snack doesn't stimulate your appetite, it doesn't matter how healthy it is, and consumers won't buy it. Especially with younger consumers who are looking for more adventurous flavours and unique experiences. Food scientists see an increasing trend and popularity towards savoury, spicy, Smokey and umami flavours (6). Moreover, a combination of these flavour profiles with sweet products is also emerging, such as sea salt caramel or smoked almond toffee. Bold, spicy flavours such as spicy peri-peri Biltong sticks stand out from the crowd.
The production of snacks, such as extruded puffs; dehydrated veggie chips (banana plantain, yuca, mushroom or onion) are ideal for combining a wide range of flavours with healthy ingredients, as they are thoroughly combined at the mixing stage before the final extrusion or frying process. Healthy ingredients choice such as pea proteins, lentils, pulses, cauliflower, sunflower and flax seeds are great for experimenting with flavours creating an overall healthier product.
In recent, a lot of salt flavoured crisps and snacks can be seen on the supermarket shelves. Superfine sea salt flakes are similar to a powdery texture offer an even coating to the snacks such as popcorn, potato chips and nuts, delivering an enhanced flavour impact and less sodium content. In contrast to salt, major organisations such as WHO and FDA are against high sugar intake, with no more than 10 % of the daily intake amount. More consumers are turning away from high sugar foods, especially soda. These ingredients are widely used, and finding alternatives is a considerable challenge. A majorchallenge for manufacturers is that the consumers want the taste of sugar and salt in their products. Artificial sweeteners are also out of the equation as manufacturers are being forced to experiment with other flavours and enhances. We have seen PepsiCo and Coca-Cola removing aspartame from their diet products (7).
Prevention is better than cure:
Consumers are now requesting for free-from products, such as fat-free, sugar-free, dairy-free, nut-free etc. The popularity of such free-from products has greatly increased is due to the awareness of food allergens and lifestyle choice. For instance, nut allergies happen when your body's immune system overeats the proteins found in the nuts. Human's defence system treats them as a threat and tries to fight them off. Wheat allergy (Gluten intolerance) is an immune response to any of the proteins present in wheat, barley and rye, including but not limited to gluten. Wheat is one of the top food allergens in the USA, commonly recorded in children.
Lupin is a common legume, belonging to the peanut family and readily available in some parts of Asia and Europe. Lupin flour and protein started becoming available in the United States, where it was considered as a wheat replacement in gluten-free products. The US-FDA issued a red alert warning as it can cause an allergic reaction ranging from a mild case of hives to full-blown anaphylaxis (8,9). However, for most people foods containing Lupin are safe to eat.
What are the challenges with free-from products?
The first and foremost challenge with these products is to source alternative ingredients. Secondly, scientists have to make sure the ingredients interact together similar to the conventional ingredients in the original recipe. Moreover, despite using different ingredients, food scientist also needs to achieve the same flavour, consistency, functionality and texture.
Snack food manufacturers struggle with relatively high costs of free-from ingredients than conventional ingredients , showcasing major restraints for the growth of this market segment. As the market is driven by the increased diagnosis of food allergies and awareness about health benefits associated with special dietary lifestyles; the snacks and ready to eat (RTE) segment which is projected to grow at the highest during the forecast period.
Overcoming future challenges:
While the snack food industry has faced quite a few hurdles, it has still offered healthier food choices in many segments. Future trends tend to emerge from the existing ones, making it easy for consumers to follow internet leads. Other challenges that which remain constant are to bring down the overall cost of the product, scale up time, competing in different segments and markets and the important of all to be compliant with all local and international regulations.
Food Research Lab can help you solve these problems. FRL is for food manufacturers as well as those companies involved in NPD and developing spec without manufacturing. FRL gives you the ability to improve all phases and aspects of new product development, such as original specification, ideation, recipe tracking. Additionally, you can get them out to market quicker than ever before.
Dr Raj is a trained food scientist from New Zealand, with 10 years of experience. Upon completion of his PhD, he worked for various FMCGs. He is the recipient of the Oxoid food science award from the Heriot-Watt University and Callaghan grant from University of Otago and Callaghan Innovations for his academic performance. Raj writes early in the morning, then spends the rest of the day working as a full-time technologist and as a consultant at Food Research Lab, Chennai & the UK, where he makes his experiments work.
References:
https://medium.com/@jenniferroberts050_60595/neuro-nutrition-the-impact-of-food-on-our-brains-646335c6dbfd
Devi, Aruthra & Narayanan, Rita. (2019). A Review on Neuronutrition. Asian Journal of Dairy and Food Research. 10.18805/ajdfr.DR-1454.
Kårlund, A., Gómez-Gallego, C., Turpeinen, A. M., Palo-Oja, O. M., El-Nezami, H., & Kolehmainen, M. (2019). Protein Supplements and Their Relation with Nutrition, Microbiota Composition and Health: Is More Protein Always Better for Sportspeople?. Nutrients, 11(4), 829. https://doi.org/10.3390/nu11040829
Kaufman, F. R., Halvorson, M., & Kaufman, N. D. (1997). Evaluation of a snack bar containing uncooked cornstarch in subjects with diabetes. Diabetes research and clinical practice, 35(1), 27-33
Cochard, M. M., & Eigenmann, P. A. (2011). Allergies to nuts and seeds. In Nuts and Seeds in Health and Disease Prevention (pp. 137-143). Academic Press.