Planning to Start a Restaurant: Developing Healthy Menus for your restaurant without compromising taste and quality
In-Brief:
No matter if you're developing your first restaurant menu, all you need is a strategy to have a place for both the food and beverages from the food product industries.
If you start to formulate a plan, you're already on the way to success. Your restaurant menu should give meaning to the overall customer experience and also delivering emotions, brand personality.
Food research lab helps you to understand the fundamentals of a restaurant's menu concept without compromising quality and taste for Food product development in industries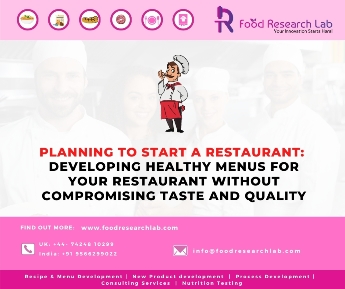 Introduction:
The first step to develop a memorable food and menu, you must have a complete understanding of your target audience. You must be responsible for advanced hyper-local analysis (competitive analysis) and focus on knowing your local economic factors. If you're starting, draft a menu concept will guide both you and your interior designing of the kitchen that is going to deliver significant storage and production. Food research lab helps to know the food development recipes under the guidance of recipe development consultants for food industries development.
There are many ways to start a plan for the restaurant, but few factors contribute major factors towards a successful business are as follows,

1. Draft a menu:
First thing, you should ask yourself
What is the primary identity of your restaurant is?
What is your area, best for?
From here, you should start to develop a flavour profile analysis with supporting factors such as colours, odour and textures that will be promising to customers to make the new recipe in food industries
The target is to make it simple and remarkable. Keep your menu under 32 items for ideal productivity, and to reduce confusion and anxiety among your customers. Remember, guests prefer to decide within 2 minutes. Use this time to list out your craving menu and if it's too large, make it precise
2. List out the core ingredients
Developing a menu, with new and various dishes of drinks, can take a lot of trial and error processes. It's essential to understand your target and market while working with flavours that excites the customers go 'wow'!
Then make a list of the core ingredients, deliver that wow concept within your ideal menu. It will be helpful if you consider how you can repurpose raw ingredients to reduce food costs and waste as much as possible. When considering components, try as much product near you – for example, produce that is in season, food cooks from your area, or meats from a local farm. Use this time to list out all the main ingredients you will require for food development recipes

3. Supply chain
After knowing your concept of idea and its core list of ingredients, you can find them in,
It would help if you reduced your risk (costs) by neglecting the third parties within the supply chain. While planning your menu(s), make a list of the number of targeted suppliers, including data within their company past, their storage facilities, delivery methods, and ethical production environment. Draft a list of three to four local butchers, seafood suppliers, local wineries, and produce suppliers (etc.) needed for your business concept.
4. Menu items cost:
With the help of recipe development, consultants, or merely inputting available information into a spreadsheet will allow you in analyzing your menu ideas, portions, and each item associated with its list of the ingredients.
The concept of noted ingredients, and each supplier's cost, the menu items can be priced accordingly for your target consumers and the nearby economy. Also to check
Is there enough profit-based income on your location's requirements?
Is there enough balance in the pricing?
What is the average revenue per consumer?
It is where a business plan in place will guide to understand clear key performance indicators (KPIs) required to own a successful restaurant in the field of food industrial development

5. Set up your plating and glassware
You have the idea and direct costs by this time, and you can move to the next step. The aspiring restaurants forget about this one. It's time to consider how your customer will consume and drink your craving menu.
How will it appear on the plate or glass? What are the contrasting colors with the other? Is the dish or drink social media-worthy? What elements should use a fork or spoon? If it's available for take-away or dining purposes, how will the menu lists perform after being in a utensil for 10+ minutes on taking away?
It's ideal for plating it three different ways, testing it, taking pictures, and testing its longevity if it for take-out. Again, trial and error make perfect with the help of recipe development services to make standardized recipes

6. Run a trial kitchen
Undoubtedly, this process is the most exciting aspect –flavour testing! Does the menu items meet and exceed your expectations? Provide each article with a few different reviews and decide which is best. Make others involved in the test and don't be afraid to utilize a soft opening to gather feedback. You might take photos and upload them on online platforms to see the engagement from a visual standpoint.
The key to a right and the special menu is to make it small and precise with ideal items that you want to be reputed for – creating benchmark among competitors, differentiating your concept from local competition and offering a balance in pricing. This method is the recipe for success employing with recipe making consultants
Conclusion:
A healthy menu is the most important for the development of the menu. Customers should never forget your restaurant name and food name despite getting sick after getting consuming your food. Food product development should be tasty and healthy. Food research lab suggests you follow the guidelines stated in this blog.
References:
Glanz, K., Resnicow, K., Seymour, J., Hoy, K., Stewart, H., Lyons, M., & Goldberg, J. (2007). How major restaurant chains plan their menus: the role of profit, demand, and health. American journal of preventive medicine, 32(5), 383-388.
Jun, J., Kang, J., & Arendt, S. W. (2014). The effects of health value on healthful food selection intention at restaurants: Considering the role of attitudes toward taste and healthfulness of healthful foods. International Journal of Hospitality Management, 42, 85-91.